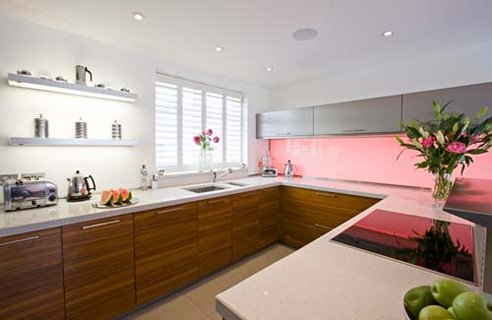 Kitchen Lighting.
Even subtle makes a big difference.


You may have been dreaming about your new modern fitted kitchen for some time before you actually find the time and the money to do something about it. This has probably included a fair amount of time wondering around local diy stores and kitchen showrooms, drooling over high gloss units and granite work surfaces. However this is just the tip of the iceberg and there is of course more to think about when planning the perfect kitchen than just worktops and cupboards.
It is the finishing touches, the detailing, that really makes a kitchen come together and fit perfectly into your home and your lifestyle. Designing your new kitchen is a great opportunity to add some real character and inject some personality into your living space, and there are so many ways to make it unique to you. In all honesty, this is the fun bit! So where to begin?
Well a popular effect, widely used in contemporary kitchen design to create atmosphere or set a tone is sophisticated lighting. This could be something as simple as plinth lights that provide a low level glow across the kitchen floor and reflect beautifully on a high gloss finish. Plinth lights are great in the evening, providing just enough light for when you are nipping into the kitchen for extra munchies, or another glass of wine. They are also fairly easy and cheap to install which makes them all the more appealing.
Likewise, lighting underneath wall units offers a similar effect. You could opt for mains powered spot lights, but for a real modern and energy efficient alternative LED tape lighting is the way to go. These tiny lights come on a roll of self adhesive tape usually up to 6 metres in length. They are incredibly versatile and can simply be cut to size to fit discreetly under your wall cabinets, inside glass cabinets or as plinth lights. Provide up to 50,000 hours of light they will probably outlive your kitchen itself and you will never have to worry about replacing bulbs ever again!
Of course there is no substitute for natural light, and if this is something you are short of in your kitchen maybe you could consider adjusting the layout to best utilize what light there is. Alternatively fitting a skylight or a light tunnel would make a huge difference to a space that is a bit too dim. You would probably need to enlist the help of a professional to advise you on the options available as there are several variables to consider, roof height being one of them. Also in some areas you may even need to seek planning permission before going ahead with the alterations. All this comes at a cost, but the end result will greatly improve the overall finish of your new modern fitted kitchen.
So next time you go to a kitchen showroom looking for inspiration consider how you can implement some new contemporary kitchen design ideas into your own space. Look at the lighting options on display and think about how they could work for you.